Dr. Scott Hallums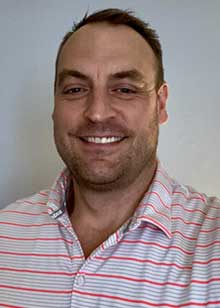 Bachelor of Science in Biology
Doctor of Chiropractic
Active Release Technique Certified
Active Released Certified
Dr. Scott Hallums was born and raised in Middle Tennessee and relocated back to the St. Louis area in 2021. Dr. Hallums has been an active individual all his life and made athletics an intricate part of his life. After earning all-state honors his senior year in basketball, he received a full athletic scholarship to play basketball at Cumberland University.
Dr. Hallums attended Logan College of Chiropractic located in Chesterfield, Missouri, where he graduated with his Doctor of Chiropractic degree in 2006. Prior to joining the Performance Chiropractic team, Dr. Hallums owned and operated Wheaton Chiropractic Spine & Joint Center located in Wheaton, IL from 2012 - 2021.
Dr. Hallums enjoys treating patients who suffer from common structural injuries, sports related injuries, headaches, and postural imbalances. He also practices functional medicine, which looks at the bodies symptoms through various lab tests and blood work to find the root cause of many illnesses. Through various dietary and supplemental protocols along with lifestyle modifications patients are able to regain their health and function at an optimal level.
When Dr. Hallums is not treating patients, he enjoys spending time with his wife, Vanessa, children Isabella, Everett and twin girls Olivia and Emma. He likes to remain active and enjoys weight training and running. Dr. Hallums also enjoys outdoor activities, hunting, fishing, cooking, and watching and rooting for his beloved Tennessee Volunteers and Chicago Cubs.
Techniques Employed:
Spinal and Extremity Adjusting
Active Release Technique (A.R.T.) certified
Rehabilitative Exercises
Kinesiotaping - Rock Tape certified
Gait Analysis
Cox Technique
Functional Medicine