Dr. Zach Cutler, DC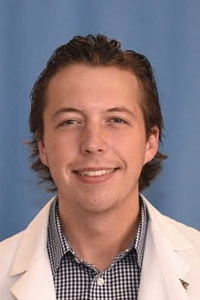 Dr. Zach Cutler, DC
Doctor of Chiropractic
Active Release Technique
Titleist Performance Institute (TPI) Certified
Zach was a student-athlete at Valparaiso University and received a degree in Exercise Science with Honors. At Valpo, Zach was a D1 collegiate golf medalist and played in the 2016 United States Amateur at Oakland Hills CC in Michigan. Upon graduating from Valparaiso University, Zach attended Logan University and graduated from Logan in December '21.
Zach is Titleist Performance Institute Certified and enjoys treating golfers along with the general public. Zach puts golfers through a screening process to pin point what physical limitations with a player's body are affecting their golf swing. Zach helps golfers take the next level in their golf game through recognizing what physical limitations may be hindering their golf swing and improving them. Zach's treatment protocols include chiropractic care, manual therapy, and specific exercises to assist in treatment and prevent future injuries.
Zach grew up in O'Fallon, MO and was captain of his St. Louis Selects hockey team (currently Carshield AAA). Zach enjoys playing and watching golf and hockey.
Dr. Cutler is located at Performance Chiropractic-Family Golf and Learning Center.
3717 Tree Court Industrial Blvd., Kirkwood, MO 63122
Please visit the website:
https://fglcperformance.com/
or contact him directly at (636) 696-6122 or email drzachcutler@gmail.com